Nov 3
Fri '17
For today's NaBloPoMo, I thought that I would discuss how I'm doing with my little crochet business, Baby Love Crochet Props. I opened my Etsy shop in early July and have been doing pretty well with it.
I've had 47 sales to date. It's keeping me busy by doing something I love. Some days are harder than others to get items finished as I am also busy doing something with my girls. I take full advantage of nap time and the time after they've gone to bed.
September was really busy as people were ordering in preparation for Halloween. At one point, I had 5 orders open at the same time! Whew, I was hooking like a mad woman!
In October, I added a new section to the shop to sell some of my original patterns. As I've created different outfits for the shop, I've used exiting patterns from around the internet and I've also created my own. I figured why not share my patterns with the world as well!
By far my most popular item is my Hedwig outfit. This little owl from Harry Potter is loved by so many! It accounts for 26% of the items I've sold so far. It's a pattern that I wrote, so that gives me warm and fuzzies knowing people love something I created.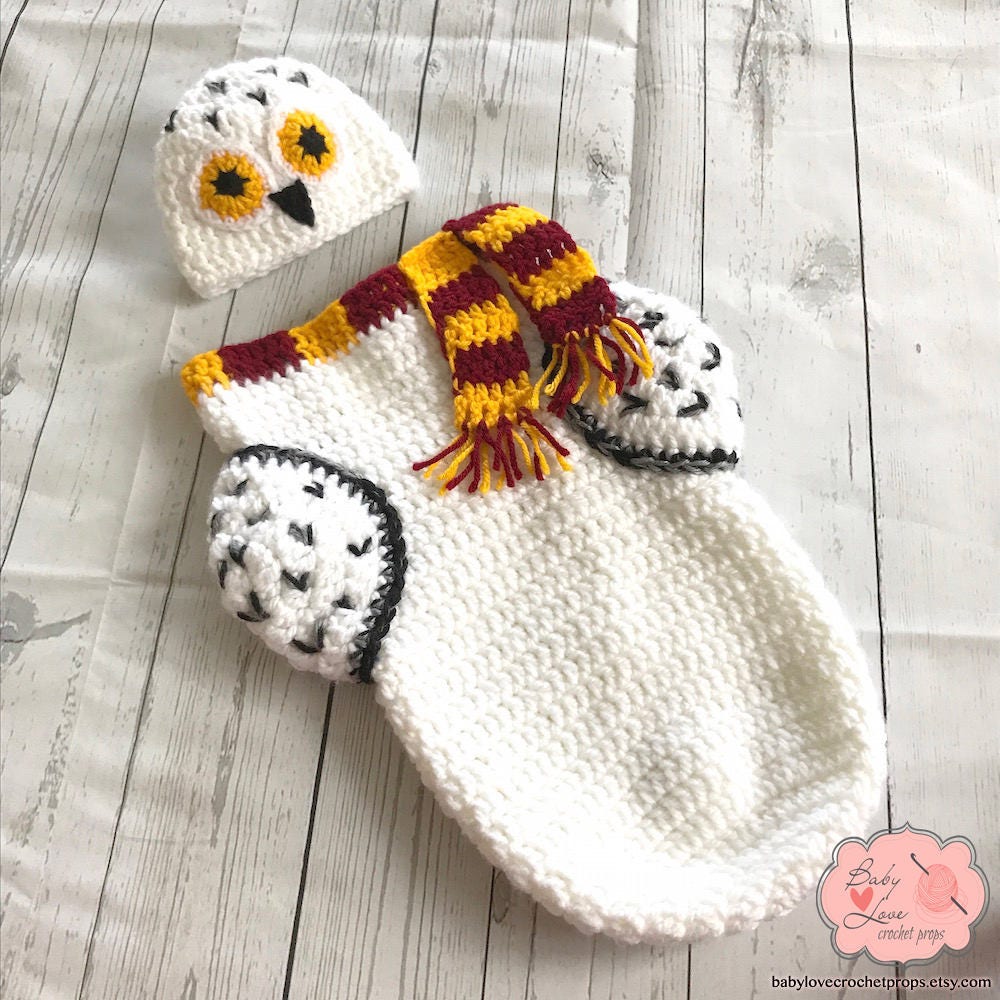 Something I've discovered since opening my shop is that I absolutely hate shipping items without tracking. I used to ship the cheapest method I could so that my customers didn't have to pay out the nose for shipping. However, sometimes it could take up to a month for my items to arrive in the USA from Canada. I hated that and I especially hated that I couldn't even find out where the package was at any given time. So now, I only ship with a tracking number. This does mean that customers pay a bit more, but it also gets the items to their destination in half the time. I feel more at ease choosing this way of doing business!
Anyway, I love making these items because crochet is my passion and it's fun that I am making a tiny bit of pocket change to go along with it!
Filed under: Crochet, NaBloPoMo
Tags: baby love crochet props, business, crochet, Etsy, newborn, photo props, shop
3 Responses to "NaBloPoMo 2017: Day 3 – Baby Love Crochet Props update"
Joy —
November 4, 2017 @ 4:29 am

I'm so happy for you! Everything looks so cute and it's really impressive that you've been writing your own patterns. I hope it continues to blossom for you and that you continue to love it! ❤️

Cat —
November 6, 2017 @ 11:39 am

The items in your shop are soooo cute! I'm glad to hear that your shop is doing well and that you've done so many orders already. That's great that you can make some extra money off of something you love doing!

I also agree with about shipping without tracking. If I'm given a choice, I always prefer to pay extra to get tracking on it!